04 May 2022
On May 04, the expert workshop below the topic "The public transport of tomorrow" took place at the TU Kaiserslautern.
The field test with automated cross-border shuttles as well as the accompanying research on the topic of Mobility on Demand have enabled the project to gather numerous findings. The htw saar and the Institute for Mobility & Transport at the Technical University of Kaiserlautern were able to present and jointly discuss these findings in a workshop with an expert audience consisting of public transport authorities, mobility providers and transport authorities.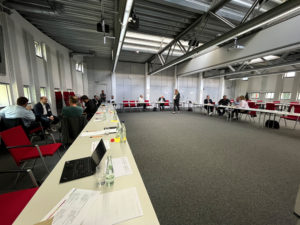 As part of an interactive task, the opportunities and risks of the use of autonomous vehicles in public transport were debated. In addition, conclusive mobility concepts in the area of mobility on demand were discussed. Based on the visions developed, there was ultimately a lively exchange about the change in qualification profiles in the mobility industry up to the year 2040.
The workshop provided the project with insightful findings that are essential for the further course of the project.
We thank all experts for their participation!