23rd November 2021
To round off the evaluation of the test field, the htw saar invited the drivers and the management of the KVS GmbH to a workshop.
During this event, the results of the trip logs regarding the use of the automated shuttle as well as special incidents and challenges with the automated system were discussed. In addition, all six drivers of the strategic partner had the opportunity to talk about their personal experiences and emotions as "driving operators".
All of the drivers volunteered to take part in the test. Main motivations for their participation were curiosity, technical interest and the opportunuty of driving a Tesla. It was an experience they would not want to miss.
The drivers are aware that mobility is changing and therefore want to participate in innovative developments to get an insight into what the future of a bus driver could look like.
A quote from one bus driver:
"Depending on what the future brings…But all in all, autonomous driving will come to us all in the distant future and that's why we are getting to know it directly, best from the beginning!"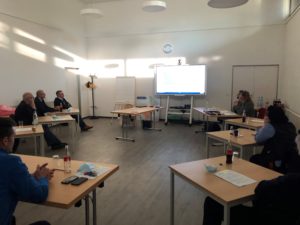 The field trial is also viewed positively by the management. Mr Michel, Managing Director of KVS GmbH saw the special opportunity to sensitise his specialised staff to the topic and assessed the free "loan" of bus drivers as a useful investment in the future:
"The world goes on and you have to prepare for it. While I could provide my staff with educational material and videos, there is nothing better than experimenting with automated driving yourself. And I also expect a multiplier effect in my own house."
The Operations Manager, Dirk Joris adds that the experience gained has been so positive that involvement in future projects would be absolutely conceivable.
As the lead partner, the htw saar would like to take this opportunity to thank you the KVS GmbH on behalf of the entire consortium for their great support.